Already, we've passed the halfway-mark for this year and sooner than you can say 'Cheers, darling!' party season will be upon us once more. It's easy to be caught off-guard by the onslaught of events, and end-of-year dallying that we so look forward to throughout the year. The arrival of visiting friends and family dials up the pressure even more. Soon you find yourself frantically scrambling to bring together all the elements of your end-of-year event that you've envisioned hosting. Avoid having to endure a stressful soirée-season by seeking out the help of a professional and have your space ready for entertaining before the season arrives.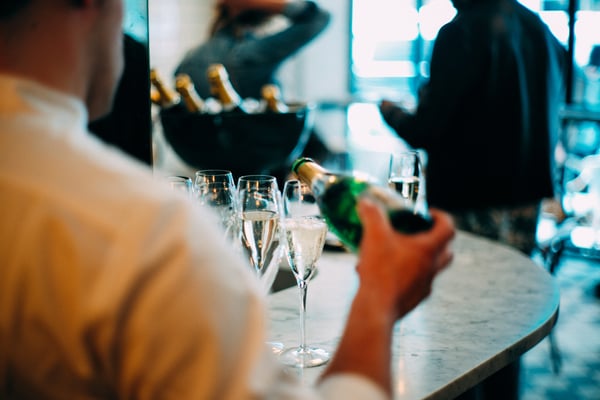 The Importance of a Well-Designed Event Space
Creating a beautiful and inviting interior for a specific occasion with custom-designed furniture and delightful decor is not only key for an enjoyable experience but integral to successful networking. The flow, ambiance and comfort levels of a space are what facilitates good conversation and increases the likelihood of people feeling comfortable enough in a space to seal business deals and make new connections. Working with an interior designer who understands the psychology and inner-workings of good design for a social experience can aid you in hosting an event to remember.
Room to Mingle
When you're hosting a large event, you need to make sure you have room for people to causally flit from group to group and find interesting conversation. Having a room that is too large can make people feel too exposed and vulnerable. Using a space that is too small, can make people feel like they're a part of every conversation, in an uncomfortable way. Anticipating your hosting needs ahead of time can allow you to make those structural changes necessary to create a space that will allow guests and conversations to flow freely.
Conversation Starters
Your decor should be interesting enough to invoke interest and be an ice breaker for small talk. Use art or decor from your travels to add depth to your space. It will allow you to share your interesting stories from around the world and encourage others to do the same.
Standing Room Only
It's important to allow people room to stand, or sit, comfortably. Consider high-top tables for areas where you'll be serving cocktails and canapés as well as comfortable chairs for people who prefer to retire to the sitting room. The trick to having the right furniture to design the flow of the event is to rent it when you need it. There are many wonderful high-end furniture rental options that allow you to maintain the class and prestige of your home and event.
Design vs. Decoration
When thinking about how you're going to facilitate your hosting responsibilities, consider the difference between design and decoration. Interior design is the structure and flow of your space; the key fixtures and underlying essence of your space. Interior decoration are the finishing touches that can be swapped out as needed. New tapestry, furniture, and accent pieces can be moved in and out as need for different events and functions, but your room structure and flow is not as flexible. If you want your space to be more functional, you'll want to hire an interior designer.
Seeking Professional Help
Interior designers have the unique ability to transform any space and set the social scene according to whatever your social needs and desires are. Whether you need structural changes made to your home to accommodate a larger number of guests or whether you need additions or changes made for the sake of an elaborate theme, an interior designer can help you achieve your party-goals in a timely fashion and eliminate the element of anxiety that comes with planning the perfect event to impress your peers.

Collaborate
Working with a professional can and should be a gratifying and enjoyable experience. The right interior designer will allow for as much collaboration and involvement as you choose to have. A good starting point is choosing a statement piece that epitomizes what you like and what you are aiming to aesthetically achieve. Both you and your interior designer can use it as a source of inspiration and a kickoff point to work from.
Theme
Although themed events are waning in popularity, they are still great sources of inspiration and a fabulous way of adding excitement to an event that may have otherwise been lost in an ocean of party season noise. The MET GALA is a prime example of an annual event that successfully executes a dramatic and completely over-elaborate theme without sacrificing on style and sophistication. It's a great source of excitement and inspiration, and the event is much-anticipated globally each year.
Your interior designer can assist in choosing the table linens, glassware, tableware and a selection of printed pillows, accessories and textiles to translate your party-vision into an on-theme reality. In addition to simple textile additions and colorful wall treatments, an experienced interior designer can work with an architect to add structural elements like elaborate sunken fire pits and wraparound seating to help transform your space for any event and theme.
Last Thoughts
Choosing to hire an interior design professional can eliminate the stress of designing the perfect space for your event and help you achieve your special occasion dream aesthetic this year. Ready to get started? Schedule your in-home consultation with Judith Wilson now: